Always with Iron and Steel for more than a century
Since its founding in 1909, Shimabun Corporation has progressed with iron and steel industry, has accumulated expertise and has built its own unique network.
We will evolve ourselves, as we did in the past, to respond to drastic changes in the world.
Corporate Profile
Corporate Name
SHIMABUN Corporation
Headquarters
4-2-7 Iwayanakamachi, Nada-ku, Kobe-city, Hyogo 657-0845, Japan
Representative
Chief Executive Officer
Kensuke Kitani
Establishment
October 1909
Incorporation
August 9, 1949
Capital
65.5 million Yen
Number of employees
1,200 (As of March 31, 2020)
Tel.&Fax.
Telephone: +81(0)78-871-5181
Facsimile: +81(0)78-802-9524
Website
https://www.shimabun.co.jp
Contact …Sales Division
Address
Shimabun Kakogawa Building 4F,
1884-1 Ikeda, Onoe-cho,
Kakogawa-city, Hyogo 675-0023,
Japan
Tel.&Fax.
Telephone: +81(0)79-423-0392
Facsimile: +81(0)79-423-8380
History
October 1909
Founded as Shimada Shoten.
April 1933
Reorganized as Shimabun Shoten Partnership.
August 1949
Incorporated as Shimabun Industries Co., Ltd.
January 1990
Renamed Shimabun Co., Ltd.
January 1995
The Kobe Earthquake totally destroyed Shimabun's Headquarters Building, the Second Building, the annex of the Third Building, and damaged works in the Kobe area.
December 1995
Inaugurated Shimabun Kakogawa Building.
August 2003
Inaugurated new Shimabun Headquarters Building.
Renamed Shimabun Corporation.
Message
The Shimabun Group has progressed along with our stakeholders for more than a century. As a result, we have become one of the top-class Japanese companies in the fields of following businesses:
- Recycling of iron and steel, both in terms of sales quantity and expertise
- Contracted operations, in terms of safety and labor management
Moreover, each of our group companies has achieved a unique position in its own business area. The basis for all these businesses is our focus on employees and the realization of their capacity. This focus is a part of our DNA. We will firmly maintain it as we move forward. We will make the best use of the knowledge and expertise of our employees, and we hope the result will be another 100 years of prosperity with our stakeholders.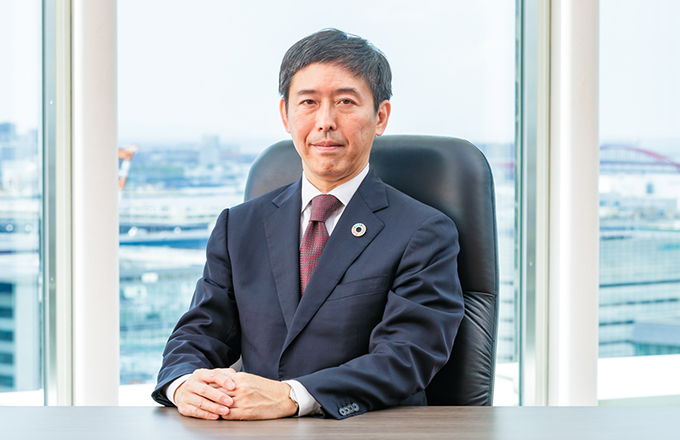 Kensuke Kitani
Chief Executive Officer
Shimabun Corporation